What is your favorite quality about yourself?
I'm able to stay with something until it's completed.
What are some of the challenges Jack faces in "Jack Canon's American Destiny"?
The current President does not want Jack to succeed, and throws up every roadblock imaginable.
What is your main character Jack Canon's favorite color?
Blonde
Is there a villain in your book? What is the villain's reasons for struggling against the protagonist?
Billionaire Gene Hobbs, a man so eccentric he has a collection of artifacts of torture from the reign of King Henry, leads a worldwide cabal of greed. Hobbs turns on Jack. One interesting fact complicates the plot – Hobbs daughter falls in love with the candidate.
What is your favorite food?
My wife makes the best Meatballs this side of heaven.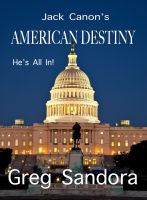 Buy Now @ Amazon & Smashwords
Genre – Political Thriller
Rating – PG
More details about the author & the book
Connect with Greg Sandora on Facebook & Twitter
Website http://www.gregsandora.com/
Quality Reads UK Book Club Disclosure: Author interview / guest post has been submitted by the author and previously used on other sites.